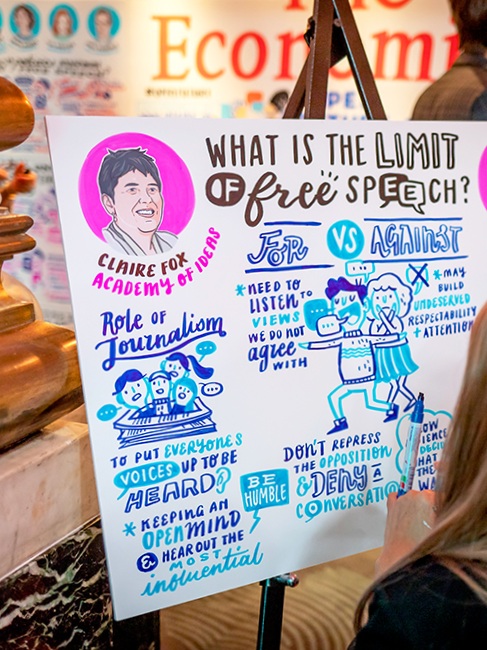 What is the impact of graphic recording done right for an established international brand?

–
We provided a space for dynamic dialogue which attracted a wider and digital audience.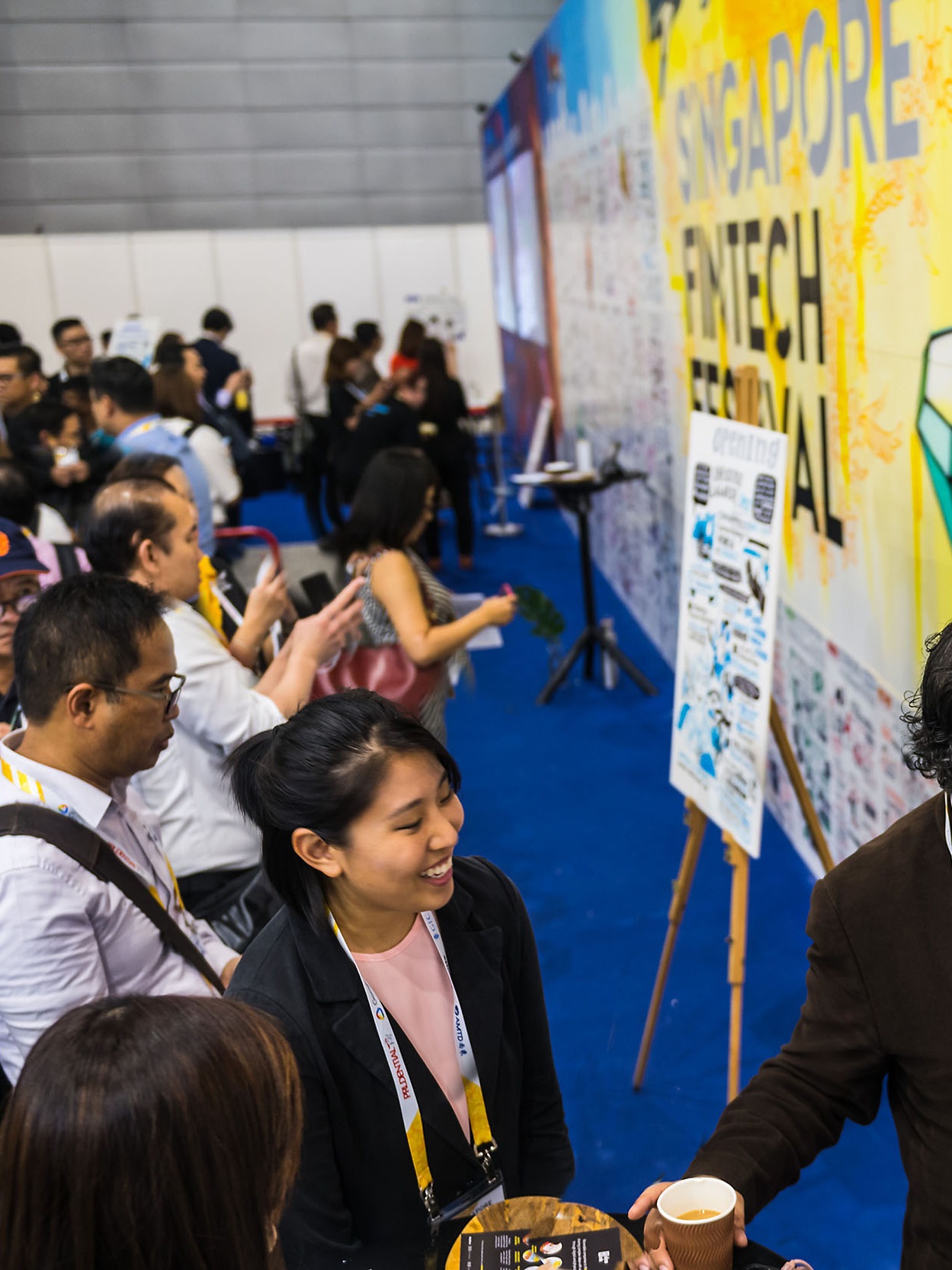 How can an annual global festival continue to deliver impact and significance?

–
We collaborated with a venue management and consulting company to deliver scale and innovation in the information design space.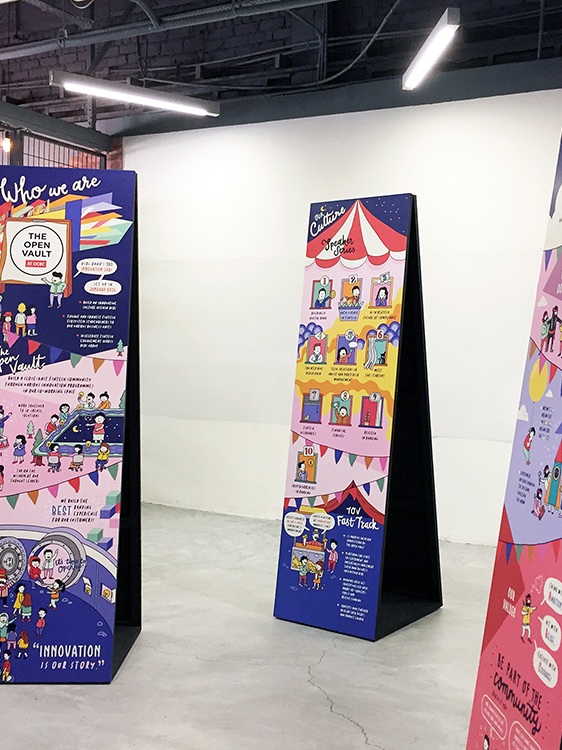 What is the result of thoughtful visual and information design for an emerging entity?

–
We helped the fintech arm of an established bank to build its brand identity.
"These talented youngsters are brilliant at translating complicated ideas in financial technology into precise, engaging summaries. In one of the Chinese conferences that we had, the hidden talents of the team surprised the audience and their bilingual work was an instant hit in China!
My global contacts are consistently impressed by Idea Ink's speed, talent, and skill. I highly recommend them, for anyone who wants intelligent, impactful images, done fast and well."
– Prof David Lee Kuo Chuen
Professor
Singapore University of Social Sciences (SUSS)
Fintech industry expert
"Edgy. Creative. Smart. Witty. Eloquent. Idea Ink made us look so good every time we worked with them!
The team is incredibly talented and they manage to crystalize complex concepts into wonderfully clear illustrations and designs. It's obvious that education, culture and books are part of their DNA, as they are very familiar with a wide range of trends that shape today's world. That knowledge paired with their talent and ease of doing business is an incredibly rare combination to find."
– Lidija Castro
Director of Strategic Marketing
Cushman & Wakefield, Asia Pacific
"Idea Ink stands out from the competition because of their astute knowledge on FinTech and also the sum of its parts – the legacies of global financial services and the agility of the technology and start-up space. They are a dream partner to work with as they are able to run with a simple brief, given the depth of their insights and experience standing on the shoulders of giants. The team never fails to amaze us with how little time they need to beautifully and creatively illustrate industry jargon and concepts."
– Grace Cher
Marketing & Communications Manager, Asia
Westpac Banking Corporation
"We enjoyed collaborating with Idea Ink for our Curating Whampoa Sharing Session on 28 July 2018. Not only were they responsive in emails/phone, they were also professional and creative in capturing the important points of the session. One very amazing thing was, they were capable of translating the session from Mandarin/Cantonese to English and draw out the visual output in English on the spot. We were very impressed by the beautiful output as well."
– Jasmine Lee
Assistant Manager
Tsao Foundation, International Longevity Centre (ILC) Singapore
"Idea Ink graphic recorded our members' orientation session and we were completely amazed by how swift and succinct they could turn our live content into a beautiful infographic. They also conducted a sketchnoting workshop for our members, sharing productivity hacks and simple tricks to filter and synthesise key ideas. They are professional and sharp in what they do and we would absolutely recommend them to businesses looking to close a communication gap seamlessly."
– Jackie Lam
Community Manager
WeWork
"Idea ink was great at our event! If you're looking for something to spurs up your event, they are definitely the missing puzzle you're looking for. We have nothing but great stuff to say about them and would definitely work with them again. They are different from other illustrators as they bring their own unique twist to the work, always bringing in creative ideas to the table and they are also easy to work with!"
– New Su Shern
Love Frankie
"We shared what we had in mind, creatively and visually Idea Ink delivered. We are pleased with the outcome and the pleasurable experience of working with the Idea Ink team!"
– Danielle Kuah
Assistant Vice President, Talent Acquisition
United Overseas Bank Limited (UOB)
"The team in Idea Ink has been flexible, easy to work with and comes with a reasonable price tag.
They are one of the vendors that you would want to work with, who hears you out, understands your requirements and work around to ensure that your objectives and desired outcome is met.
Great experience collaborating with the team and will look forward to work with them again."
S&P Global Platts
"We were very delighted to have Idea Ink at our largest annual ASEAN forums in Bali. They had created dazzling illustrations that accurately captured and depicted the corporate messages in a clear, clean, and concise way. Brilliant illustrations were combined with editable text to distill complex messages and concepts that deepened engagement, drove shared understanding and strengthened communication.
It was always very fascinating and entertaining to watch Idea Ink capture and synthesise the messages of each session into a bold and beautiful, hand-drawn graphical record, pulling out salient points and building a living document. If you'd like to make a bigger impact at your conference, I would recommend Idea Ink."
Hitachi Vantara

our Global Reach
For you, we travel the extra mile.